Announcements

The Second Quarter, 2017 issue of the Caboose Kibitzer is now available!

Thanks to everyone that voted in the election for 2017-2019 MCoR regional offices!

The 2017 Convention website continues to be updated and contains information about the upcoming joint regional convention between MCoR and TLR scheduled for May 18th-21st, 2017 in Ames, IA. Registration is still open!

The Region Calendar has been updated. If you have a show, meet or other event that you wish to add please send email to the region webmaster so that it gets listed.
---
The OpSig's second publication: A Compendium of Model Railroad Operations - From Design To Implementation is now available. More information can be found in the linked flyer and at the OpSig website.
---
Thanks to Brad Slone for putting together this information on how to host a regional convention!
---
There are still Regional Car Kits available!
---
Also, thanks to those members who have provided photos for the banner rotation. We are always looking for more photographs of regional layouts to use for page banners. If you would like to share a photograph of your layout, please send a high quality photo to the region webmasters and we'll add it to the banner rotation.
Division Officers/Members, please remember to send email to the region webmaster with updates after officer elections so that we can keep the division pages up to date. Thanks!!!
---
WHO WE ARE!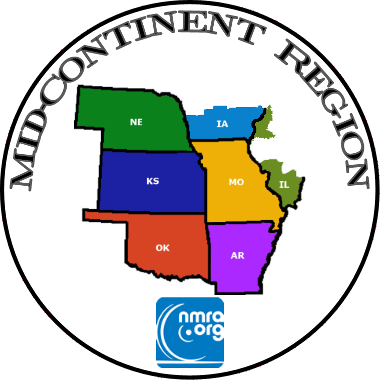 MCoR includes the southern half of the state of Iowa, portions of Illinois, and the entire states of Arkansas, Oklahoma, Missouri, Kansas and Nebraska. Since 1990, MCoR's leadership has fostered a strong program of developing local divisions with the purpose of bringing the potential for NMRA activity and involvement to a community near you. From only two divisions in 1990 located in metropolitan areas, MCoR now has well over a dozen divisions and over 1,200 members.
As division home pages are developed, they will be linked to the Division's name in the Board of Directors listing which follows. Be sure to visit the site for the division closest to you to find out who to contact for information on local meetings and other activities. E-mail addresses are included where available. Click on the e-mail link and your Web browser should allow you to compose an e-mail message. Feel free to send e-mail to MCoR Directors or Division officers to find out more about model railroading in your locality.
Again -- WELCOME and ALL ABOARD!!!